Beauty Abounds at Adawehi Wellness Village
Have you ever had a song run repeatedly through your mind? It happens to me often. And invariably I can only remember a line or two, not the whole song. Well that happened to me recently. One line sang in my head for a whole day. It was the song "Where Everybody Knows Your Name" from the television series Cheers.
As crazy as it sounds, these song remembrances are usually reminders of something I need to pay attention to. That was the case with the "Cheers" song line. I had been staying at home working, working, working, which is my favorite cover up when I am missing my deceased husband. But that day the song woke me up and motivated me to action.
I live in a community of people who are open and welcoming. So what was I doing staying away and feeling lonely? The song line, "I like to go where everybody knows my name," pushed me to take my board game to one of the places where people congregate. I had great fun and went home feeling connected rather than alone.
My inner voice speaks to me in a variety of ways, but I find its messages to always be valuable. Even the seemingly insignificant messages can keep a small need from becoming a worrisome one. The trick is to discern which messages meet a need and which ones are mental obsessions. Mental obsessions are worries that run around like little gerbils in your mind. They don't motivate nor do they answer a need. They simply wear you down.
On the other hand, your inner voice knows you well and is concerned about even the small things, as was the case when the song line got me to stop my work obsession and listen to my emotional need. But sometimes my inner voice directs me to meet someone else's need. For instance, recently I kept hearing my cousin's name in my head. It had been several years since we had talks so I had to dig for his phone number. He was in the midst of a family crisis and needed a listening ear. So I have learned it is wise to listen to my inner voice.
Share with a Friend
[apss-share]
Would you like support in hearing your inner voice?
These selected recordings by Jackie will help.
Contact Jackie Woods
PERSONAL MESSAGES / MEDIA REQUESTS
Jackie Woods
c/o Adawehi Wellness Village
P.O. Box 1549
401 Adawehi Court
Columbus, NC 28722
828-894-0124 ext. 1
MORE SITES BY JACKIE WOODS
Give the Gift of Spiritual Growth!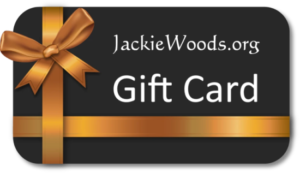 Your Account | Shopping Cart